Throughout the year, there are countless ways that plastic boxes are the best way to organize and package a variety of products, but in the fall there are specific applications that make these versatile containers a top choice.
Hunting Season
Boxes for animal calls are one of our biggest sellers, and with good reason. What better way for the hunter to organize their calls for big game, bird, predator and turkey hunting?
Our clear plastic, hinged G250 box is not only lightweight but durable, making it an ideal choice for display, storage and easy access. Plus, it can be imprinted with your logo or design to perfectly customize it.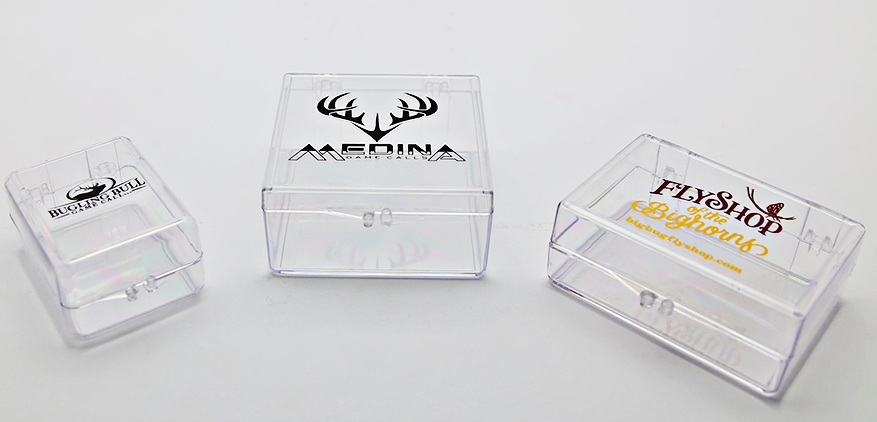 Halloween Makeup
A makeup collection can grow in a hurry, especially for those whose passion is creating the perfect zombie face.
This is where our round containers can save the night. These can be molded in a specific makeup-friendly resin (SAN/NAS)—not the standard polystyrene—so makeup will not only be easy to see and access, it will also be safe from chemical breakdown.
Use these plastic boxes to store and display other accessories, eyelashes, and every other product imaginable.
Tasty Holiday Gifts
People are shopping for the holiday season earlier and earlier every year, and one of the staples everyone likes to have on hand for last minute get-togethers is a beautifully packaged assortment of candy, nuts, or chocolate.
We offer a wide variety of plastic containers that can be festively transformed with colorful ribbons, and customized with your logo or seasonal imprint, giving a thoughtful gift that much more sparkle and appeal.
Most importantly, you can be assured that these BPA free containers with air tight lids from our Omni or round collection are safe for food content.
Containing The Knickknacks
It's inevitable – as the holiday season gets underway, knickknacks and decorations creep in and take over a home from Halloween straight through to the New Year.
Lights, decorations and vintage keepsakes will all find safe storage inside our plastic boxes, from compartment containers for organization, to our OMNI collection for beautiful display. They're great for showcasing products, and their durability and reusability adds extra value for customers when they need a place to store those items at season's end.
While these are some of the most popular ways our containers are used during the fall season, 53 years in the business has taught us that the possibilities are truly endless. So, if you have a specialty use in mind and would like more information, please contact us online and we'll help you bring it together.