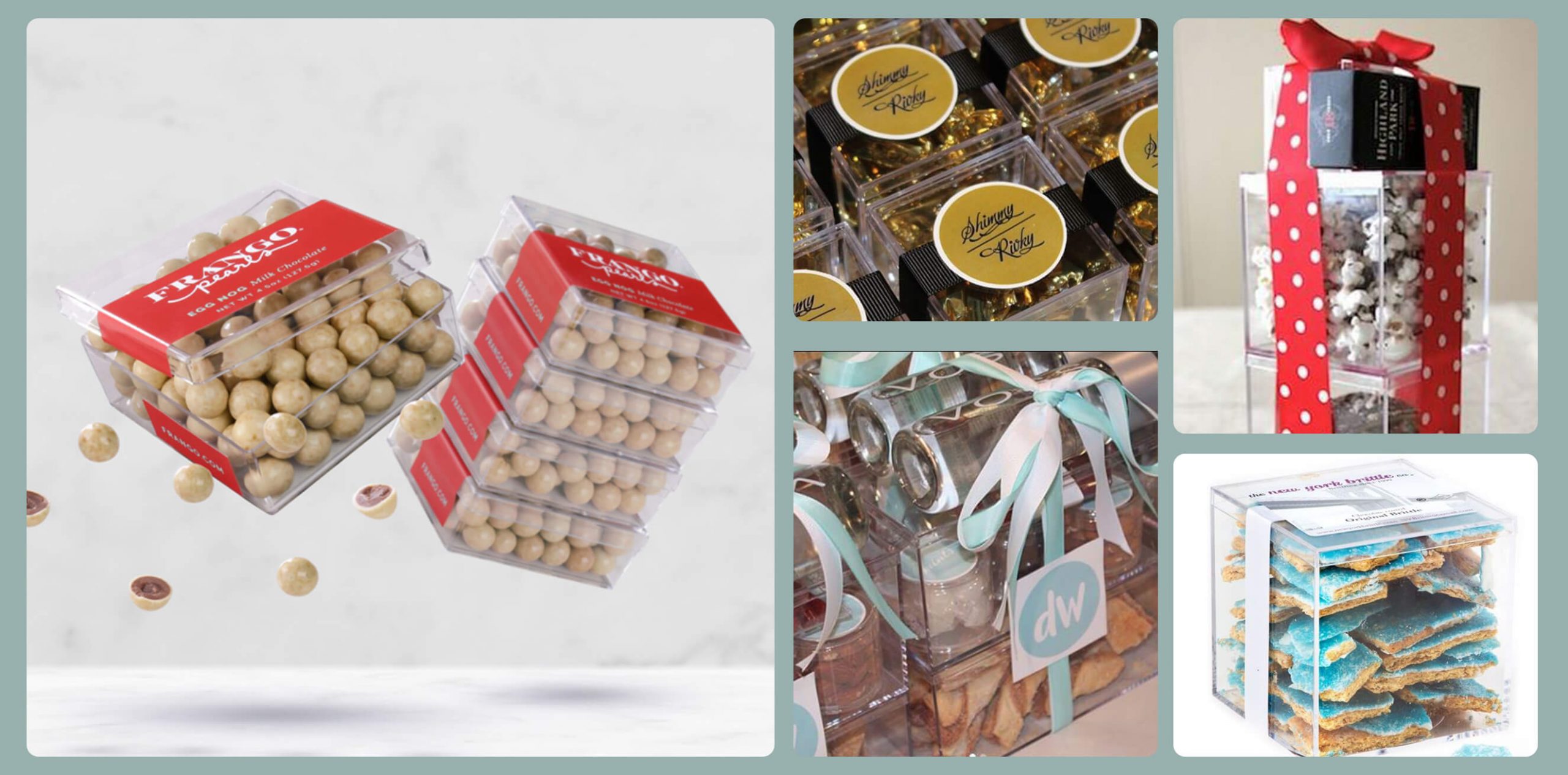 March may come in like a lion, but it also comes with a host of "National Food Days", celebrating everything from chips and dip to banana cream pie.
For bakeries, food and gift retailers, and artisan culinary endeavors, it's important to package those tempting treats in a way that is secure, protective and appetizing. Sure, you could opt for the cardboard-box-and-string approach, but when it comes to adding value to your products and delivering them in perfect condition, it's hard to beat plastic boxes.
Today we're sharing just a handful of the fun and unique National Food Days that happen during the month of March each year, and showing you how using our plastic packaging can elevate the most humble dessert into something memorable and crave-worthy.
March 1: National Peanut Butter Lovers Day
If you're a fan of this creamy-crunchy-spreadable treat, then this day is for you! And whether you're sharing a jar of the good stuff, or using it in a baked confection, your treats will benefit from good packaging.
Consider the humble jar of peanut butter. It may not be anything special on a grocery store shelf, but imagine it set on a lovely flock board or foam base, lidded with the crystal clear view through one of our OMNI boxes. With the simple addition of a ribbon or bow, you can turn "peanut butter" into "coveted delicacy."
Place multiple jars beside each other in a long, rectangular shaped box, or stack multiple smaller boxes on top of each other to create a variety gift.
There are myriad brands, styles, and even flavors of peanut butter, all vying for consumer attention. Make yours stand out with packaging that attracts interest and then showcases your product beautifully and effectively.
March 2: National Banana Cream Pie Day
Ah, banana cream pie… that silky, creamy confection, so prone to ending up with half its cream topping stuck to the inside of the flimsy plastic window of a cardboard bakery box!
Why subject your products (and hard work!) to this injustice? For delicate items like pies and baked goods, our boxes are strong, rigid, and lightweight, which makes them ideal for shipping, display, and protecting their contents.
Choose a square box, or buck the trend and choose a round one. All of our boxes are food safe and BPA free. Best of all, they are recyclable and reusable long after their contents have been devoured.
March 4: National Pound Cake Day
Yes, our boxes can protect all the pies and cakes you can dish up. But what about the ingredients? Pound cake is a popular favorite, and lucky for its fans, it's easy to make with common ingredients. It lends itself perfectly to a DIY project, where you supply the basics and your customer has all the fun!
We've seen some of our customers serve up "cake in a box", and we think this is the perfect opportunity to follow their lead. Include all the basic dry ingredients – flour, baking powder, sugar – add small packets of flavorings like vanilla or almond, even throw in some cocoa powder for a fudge swirl version!
Then just add instructions and you've got a unique gift that will attract attention, look great, and promise an afternoon of delicious fun for the lucky recipient.
March 5: National Absinthe Day
Contrary to popular myth, absinthe is perfectly legal to buy and drink in the United States. It wasn't always, but there's nothing stopping anyone from enjoying this uniquely green libation now.
You may wonder why you'd need to package something that already comes in it's own lovely glass bottle, and there is a very good answer to that. Studies show that premium packaging can actually increase the perceived value of your product. It also increases trust in a brand, heightens excitement and increases the happiness of the recipient.
You don't even need to package a full size bottle. Pair a mini-bottle with an accompanying treat, or secure a small bottle atop a box with a special rocks glass inside, and you've got yourself something gift-worthy.
In short: a bottle of absinthe is a wonderful thing. A bottle of absinthe packaged beautifully will stand out in the mind of the drinker and is likely to be perceived as tasting better.
March 19: National Chocolate Caramel Day
Does life get any better than with a box of chocolate caramels? We'll admit that the packaging is probably the last thing someone is thinking about when they're about to dive into a box of these! But packaging still has a role to play when it comes to turning an already-tantalizing treat into something _almost_ too good to eat.
For tiny confections like caramels, our compartment containers are perfectly suited. With options for 12 or 18 equally sized compartments, they make a great choice for separating caramels – or any candy – by color, flavor, or decoration. Larger candies can be individually segmented for a stand-out display. Add shrink wrap, custom labels, ribbons or bows and even the most ordinary caramel becomes an artisan feast.
The clear and easily opened lids of our compartment containers offer an unobstructed view of the candy inside, and if there are any left over after opening the box, they can be stored safely until later. Like all of our boxes, these are recyclable and reusable, which means they are as much a gift as the contents inside.
March 28: National "Something On A Stick" Day
No, we didn't just make that up, it's a real thing! Fortunately there is a lot you can do with food on a stick, and just as many ways to package it beautifully.
From cake pops to kebabs, food and sticks have a long and happy history together. Get creative with our plastic boxes by packaging sticks with their accompanying ingredients for a fun snack. Secure your own creation in an OMNI box for an attractive (and high value) display.
Or use one of our special OMNI inserts to hold the stems of cake pops, gourmet lollipops, or whatever your culinary imagination desires.
Remember, all of our boxes can be custom imprinted with your logo, image or a special message in your choice of foils and colors.
Celebrate food in style this month and all year long with premium packaging that protects and showcases your edibles. If you have a food product to package, browse our plastic boxes online or download a PDF version of our catalog. If you have questions, need help, or would like to request a free sample, contact us online. One of our packaging experts will be happy to help.