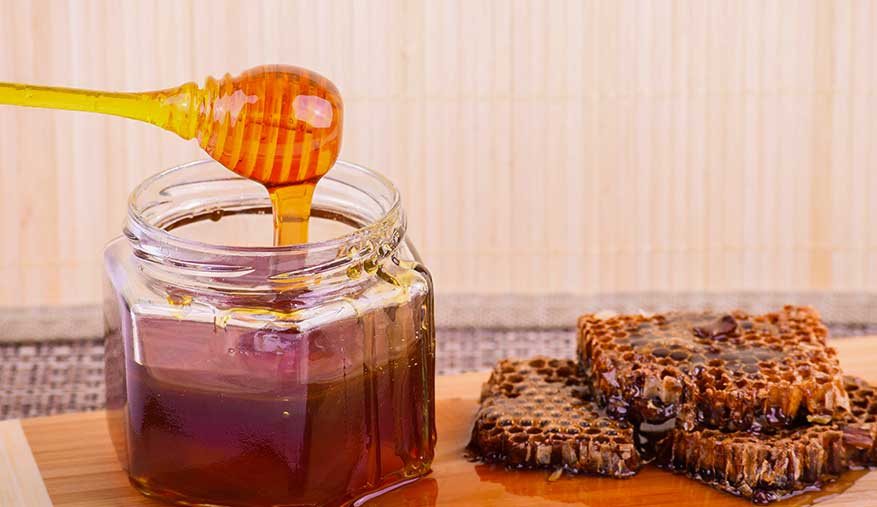 It pairs just as well with artisanal breads as with decadent desserts. It can play a supporting role at tea parties and weddings. And it's great for all seasons.
We're talking about the humble plastic box, of course!
Each fall, plastic boxes become part of the storage, protection and display of myriad products, from hunting calls to candy corn, Halloween makeup to back-to-school photos. Now, with National Honey Month upon us this September, plastic boxes come out to play again, making celebrating, gifting, and collecting more memorable and fun.
Wondering just how plastic boxes can play a role in this month's festivities? Read on!
Tea For Two
What's more iconic than a cup of tea sweetened with a bit of honey? And what better way to bring both the tableware and the refreshments to the party than in a rigid, crystal clear plastic box?
Our OMNI collection provides the perfect platform for showcasing and storing a pair of delicate porcelain cups, a charming teapot or a set of whimsical dessert plates. They're strong enough to hold heavier items, sturdy enough to protect fragile ones, and when they're fit with a custom insert they can make a stunning presentation.
But their utility doesn't stop there. Our small OMNI squares are perfect for presenting and later storing a collection of teabags. Clear sides allow the contents to shine, showing off the beautiful packaging of the teabag design and making the product the star of the show.
And of course, every good tea party needs honey! Once again, our OMNI boxes are ready to serve. Choose a tall OMNI like the 6-inch 553X, or the 570X at 8 inches with flush lid to hold a collection of honey sticks.
These food-safe BPA-free boxes can hold anything from a honey sampler to a single jar to a honey pot and drizzling stick.
Imprint them, add inserts, stack them, add ribbons, balloons or silk flowers, and you can create a collection of sweet honey treats that will make a truly impressive hostess gift, birthday gift, or just an everyday gift to celebrate this month of honey.
Sweet Collectibles
True honey aficionados are no strangers to collecting – whether it's a vintage beehive cookie jar, a piece of handcrafted bee-themed art, or even that icon of all things honey – a plush Winnie the Pooh!
Whether round or square, our boxes with flush lids make excellent storage and display containers. They're rigid enough to keep collectibles safe, even while moving them from one location to another. They're so clear that they will never interfere with the display of the item inside. And they will keep prized possessions and memorabilia free from dust and curious, grubby fingers.
Invert any of our flush-lid boxes to use the lid as base. This works equally as well for items that stand alone, or others that stand on their own detached base. Better yet, invert our OMNI boxes onto one of our specially grooved pine wood bases.
These bases are sanded, smoothed, and unfinished, which makes them perfect for customizing. They can be painted, stained, bejeweled or decked out with all manner of crafty items to complement the item inside. Think tiny silk flower gardens adorned with miniature bees, or anything your imagination can conceive!
A Honey Of A Gift
When only the most elegant presentation will do, choose plastic boxes for honey-themed gifts of all kinds. Our boxes are as ideal for showcasing a single beeswax candle as they are for presenting a collection of honey candies.
Our compartment containers are especially ideal for showcasing a variety of small items like candy, keeping each one neatly separated by type or color. As all of our boxes, they are food safe and can be imprinted with your choice of 15 standard foil colors, including metallic gold and silver, and a choice of over 20 standard ink colors.
For the true honey enthusiasts, package a full beeswax candle making kit, an assortment of beeswax lip balms, honey scented soaps and bath products, a special honeyed dessert like Baklava, or even a bottle of honey mead.
Plastic boxes elevate even the humblest of items, increasing their perceived value, and making a more memorable and lasting impression on their recipients.
As an added benefit, all of our boxes are reusable and recyclable, helping to keep the earth cleaner and safer for the pollinators who make our celebration of honey possible.
As we celebrate National Honey Month this September, we hope we've inspired you to think differently about how rigid plastic boxes can become part of your product's presentation. If you have a product to package or have questions about our boxes, bases, imprints or other services, contact us and let us know. Our packaging experts are ready to assist.