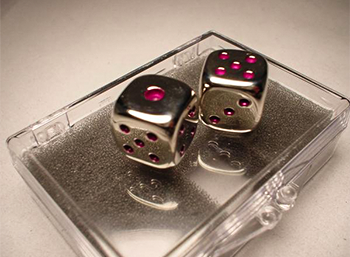 Looking for a high-quality, cost-effective solution for packaging, shipping and displaying games and game pieces, toys and collectibles, and all the supplies and materials cherished by hobbyists and sportsmen everywhere?
Rigid polystyrene plastic boxes are the favored choice of manufacturers, retailers and distributors for good reason. They're lightweight, which makes them less expensive to ship than other materials; strong, which makes them ideal for protecting delicate parts; crystal-clear, which means that products stored inside are on full display; and they can even be imprinted with a logo, text or other artwork to highlight your company or brand.
Here are just a few examples of products that are packaged, shipped, stored and displayed in our rigid plastic boxes. Have questions or want a sample of our boxes for your products? Contact us online and let us know how we can provide for your plastic packaging needs.
For The Kid In All Of Us
You're never too old for toys, and whether it's a single yo-yo or a collection of pristine Barbie dolls, plastic boxes are perfect companion pieces. They come in a variety of sizes and shapes suitable for everything from dominos to puzzles, pickup sticks, playing cards and more.
Our hinged 800 series, for example, has sizes that can accommodate one or more decks of playing cards, whether they're intended for kids or casinos.
Plastic boxes keep products safe during shipping and handling, make them stand out on a store shelf, and elevate the value of even the simplest product by enhancing its visual appeal. And parents love them because they serve as ideal storage containers to keep toys clean, dust-free and organized.
For The Collector
Plastic boxes, especially those in our OMNI collection, are an excellent choice for protecting and displaying collectibles. They keep grown-up toys and prized possessions dust-free and safe from younger and less-careful hands. And without hinges or seams, they put the full focus of attention on the object inside.
Dolls and figurines, model cars and trains, first edition books or valuable baseball cards can all find a safe and graceful home in a perfectly sized plastic box.
For The Outdoor Person
For the sportsman, plastic boxes come in myriad sizes and styles to suit different outdoor needs.
Our G250 hinged plastic boxes are favored for hunting calls. From turkey and duck calls to big game calls, it's easy to ship, store and display products. Add your company logo for a special branding touch, from one to four colors, or choose a foil imprint for a high-end look.
Golfers will appreciate the OMNI 539 filled with tees or our hinged G2250 set with a few special or custom imprinted balls. Any box can also be inset with custom-cut foam to enhance the display and protection of its contents.
Hinged compartment containers work well for fishing supplies, including storing and organizing bait, tackle, bobbers, lures and more. They come in a variety of configurations with varying numbers of compartments which means they work well for everything from small parts like hooks, to larger tools like pliers.
Plastic boxes are lightweight and durable, which means they can go from store shelf to fishing boat to hunting blind with ease, keeping products safe during transport.
For The Crafter
Crafters are notorious for the sheer number of supplies that they purchase and store, many of which are tiny parts like beads, buttons, foam pieces, "googly eyes", sequins, pompoms and a whole lot more. What better way to organize and showcase these supplies than in a clear plastic box that's easy to ship, display and store, and convenient for the crafter to open and close as needed?
Hinged compartment containers, especially those with 12 to 18 compartments, are a beautiful way to showcase and organize small crafting supplies, whether it's a container full of the same product (like pompoms in every color of the rainbow) or one housing diverse products, like the variety of stick-on letters, flower petals, foam shapes and faux jewels favored by scrapbookers.
From glitter and glue to needles and thread, clear, hinged plastic boxes keep crafting supplies neat, visible, and make it a snap to grab what's needed.
For The Musician
Much as they do for crafters, sportsmen and collectors, plastic boxes offer a great way for musicians to store, protect and easily identify small parts like guitar picks and strings.
Boxes like our G425 are ideal for larger parts, like reeds. Fit with a custom foam insert, they provide an elegant resting place for musical components and protect delicate parts.
Imprinted with your company logo, they elevate mere supplies to musical treasures.
Whatever the game, toy or hobbyist's supply that you want to package, plastic boxes are ideally suited to satisfy the needs of manufacturers, distributors and retailers by keeping shipping costs low and quality high, and satisfy end consumers with an appealing first impression and long-term convenience for storing, organizing and using products.
If you want to elevate and protect your products, contact us and let us find a solution that suits your packaging needs.